A Process To Guide You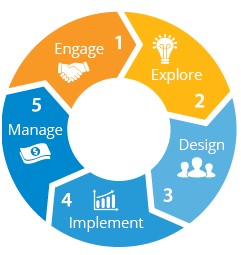 ENGAGE: Getting to know you and listen to your needs, wants, and wishes.
EXPLORE: Analyzing your current information, portfolio and researching options that are right for you.
DESIGN: Developing and presenting a tailored plan designed specifically for you.
IMPLEMENT: Assisting you in putting your strategy into action.
MANAGE: Monitoring the plan's progress with periodic reviews and ongoing dialogue.